This week on Overcoming Distractions, we chat with Cameron Gott, an ADHD coach that works with those in business, entrepreneurs and other professionals.
We are going to talk about brain management and how to thrive with Adult ADHD, focusing on the total person, rather than just one type of technique.
While many might focus on time management techniques for those with ADHD, Cameron will discuss with us that the picture is much larger than that and if we focus on the individual, we will have a much better chance of managing our ADHD and actually thriving with it.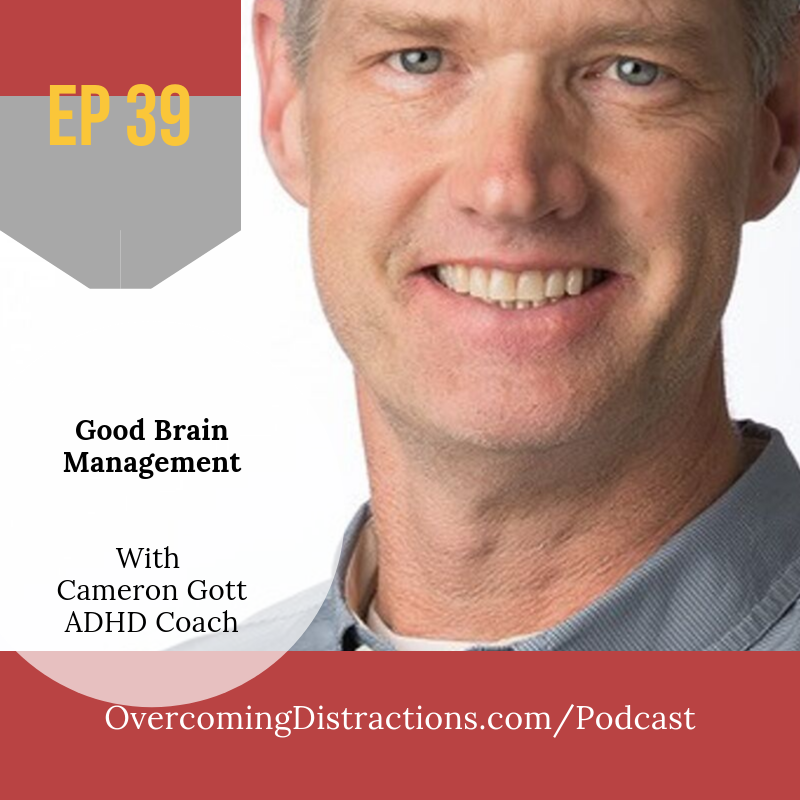 Cameron describes what good brain management is and the components of being self-aware.
He talks about why sleep so important to thriving with ADHD and how to achieve that goal.
Why is exercise part of good brain management? And what does it do for the brain.
He speaks to what impact proper brain management can have on an individual with ADHD.
And we discuss what other aspects of brain management are important and he gives us some quick tips for getting started with a program of good brain management. Such as.
Give credit to yourself for the good things.
Pay attention to yourself.
Collect data on yourself including good and negative traits.
And, start slow. Try one thing at a time such as exercise, meditation, etc…
You can find Cameron's blog about good brain management for those with ADHD here: https://www.camerongott.com/blog/2019/8/14/first-things-first-good-brain-management
Check out Cameron's new podcast here: www.TranslatingADHD.com
What is good brain management when you have ADHD?