Bring an event to your firm that people will be talking about
Host a discussion about successful entrepreneurs and how they stay focused in this crazy busy world.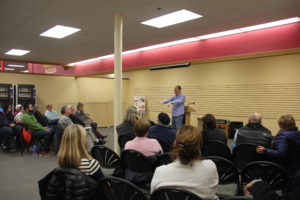 You can view David's Demo speaking video here
If you are running any type of firm that serves the needs of business owners and entrepreneurs, then you may be interested in hosting a business breakfast/discussion with author David Greenwood.
David Greenwood author of the best-selling book Overcoming Distractions brings a lively, fun and non-traditional discussion on staying focused, increasing productivity and removing distractions from your professional and business life.
He speaks to:
Financial Services Firms
Law Firms
CPA Firms
Others
David brings his experience and story-telling that comes straight from his countless interviews with entrepreneurs and other successful individuals in business. David has interviewed inventors, entertainers, serial entrepreneurs and many others. All were distracted as children and have now achieved great success and focus in business and in life.
This is not another session about how to color code your to-do list. This discussion will focus on:
7 life habits to make you more productive
How professionals with ADHD get more done than you think they can
The best time to focus on important work
The inner workings of the brain when it comes to focus and memory
Procrastination-The true reasons we put things off
Research-backed ways of increasing productivity
Myths of productivity
Life habits that help with focus and distractions
Testimonials
"David's adaptability to our unique event structure made him an excellent guest speaker to work with.  The preparation and pride put into his work was evident during the forum and each guest found great value in their attendance. His knowledge of ADHD as it relates to entrepreneurs and executives is outstanding. It would be a pleasure to coordinate a speaking engagement with David again."
Centerpoint Advisors LLC
"David Greenwood is a wonderful speaker who captures his audience's attention immediately.  Noting how noisy the world is and how easily distracted we adults all are, David offers practical wisdom through his entertaining story-telling style that provides immediate takeaways and actions steps for anyone within the sound of his voice.  Do yourself and your colleagues a favor and bring him in to speak!"
Chris Bond- Murphy Business