ADHD in the Workplace-Half day Workshop-July 25
Join Author David Greenwood as he brings his knowledge and expertise about adult ADHD to you and your team.
This workshop is a great learning experience for Employee Assistance Programs (EAP), anyone in HR, Senior Management and Diversity & Inclusion Professionals.
David's half-day workshop helps attendees understand how adult ADHD affects those in the workplace. David addresses many of the challenges of adults with ADHD as well as what allows those with ADHD to thrive in a job and career.
Sign up for the July 25 workshop in Marlborough, MA today! Everyone who attends receives a free copy of Overcoming Distractions.
The workshop will cover:
Overview of Adult ADHD
Challenges that arise in the workplace with Adult ADHD
Different ways to help accommodate adults with ADHD in the workplace
How successful adults with ADHD thrive in career and life
How to identify staff that might need your help
How to make adults who may have ADHD feel appreciated in the workplace
How to increase productivity
Minimize distractions
Managing ADHD outside the workplace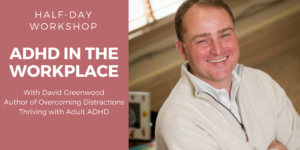 Too often, adults with ADHD bring various challenges into the workplace. From being distracted, unfulfilled, procrastination, disorganization, time management and more. And that leads to a whole host of issues for both employee and employer. Those employees might be great team members but ADHD can sometimes get in the way of truly thriving in your organization.
With a little assistance, understanding and reasonable accommodations, adults with ADHD can be a tremendous asset to your workforce.
By having a better understanding of adult ADHD and how it fits into your workforce, you can reduce turnover, lower overall hiring costs, increase productivity, reduce conflict and stress and help employees thrive. When your staff is thriving and appreciated, they are loyal.
You have no doubt at this point, committed to a diverse and inclusive workforce. So understanding adult ADHD and how it plays into your organization is time well spent. Plus, you will learn how to motivate your overall staff and increase productivity by understanding how successful adults with ADHD get more done and stay focused!
In David's book, Overcoming Distractions, he details what successful adults in business do to stay focused, crush productivity, be happy and set goals and deadlines. Let him bring this expertise to your organization.
**We fully understand you cannot ask anyone in your organization if they have ADHD or any other learning difference and/or disability. This workshop is meant for you to understand those that may be struggling in the workplace and how to accommodate them effectively as well as focus on their strengths.
Sign up for the July 25 workshop in Marlborough, MA today! Everyone who attends receives a free copy of Overcoming Distractions.